FEI World Cup Dressur & Springen Stuttgart German Masters (GER) 2019 / 2020: Turnierergebnisse: Tournament results
| | |
| --- | --- |
| date: | 13.11.2019 - 17.11.2019 |
| Location: | Mercedesstraße 69, 70372 Stuttgart, Germany |
| number of riders: | 177 |
| number of horses: | 264 |
| judges: | |
| number of starts: | 585 |

go to the trials and results
Vom 13.11 - 17.11.2019 fanden die FEI Weltcup Qualifikationen in den Disziplinen Springen und Dressur in Stuttgart (GER) statt. Die besten Reiter der Welt starteten auf diesem Turnier, um Weltcuppunkte für das FEI Weltcup-Finale in Las Vegas (USA) zu sammeln. Die Qualifikationen fanden im Rahmen des 35. Internationalen Reitturnier "Stuttgart German Masters" statt.
Zum ersten Mal siegreich in der Weltcup-Kür in Stuttgart
Mit einem Ergebnis von 88.44 Prozent konnte Jessica von Bredow-Werndl die Weltcup-Kür im Rahem der Stuttgart German Masters für sich entscheiden. Mit ihrer Trakehner-Stute TSF Dalera BB siegte sie vor Isabell Werth mit Weihegold OLD und Helen Langehanenberg mit Damsey FRH. Lediglich für den Schritt gab es kleine Abzüge in den Noten, die von den Piaffen, Passagen und der Galopp-Tour aber wieder ausgeglichen wurde. ,,Das war Gänsehaut pur!'', sagte die Aubenhausenerin in einem Interview mit der Reiter Revue. Dalera habe sich nach der Europameisterschaft in Rotterdam noch einmal enorm weiterentwickelt und sie blickt voller Hoffnung in Richtung Olympische Spiele 2020 in Tokio.
Auch drei weitere deutsche Reiter-Pferd-Paare konnten sich unter den besten Sieben in Stuttgart beim Weltcup platzieren. Im Weltcup-Ranking der Westeuropa-Liga liegt nun Jessica von Bredow-Werndl mit 48 Punkten gleichauf mit Frederic Wandres auf Platz 1. Helen Langenhanenberg folgt mit 45 Punkten vor Benjamin Werndl mit 43 Punkten.
Jessica von Bredow-Werndl mit Dalera in der Grand-Prix-Kür
Springreiter vom Pech verfolgt
Zwar konnten sich am Sonntagnachmittag vier Paare für das Stechen im World-Cup-Springen über 1,65 m qualifizieren, doch blieb keiner von ihnen fehlerfrei. Philipp Weishaupt gelang mit seiner Stute Che Fantastica die schnellste Runde, am letzten Sprung fiel dann aber auch bei ihm die Stange. Das Paar aus Riesenbeck konnte sich noch auf Rang fünf platzieren. Ludger Beerbaum mit dem Rheinländer Cool Feeling und Daniel Deußer mit Killer Queen VDM mussten ebenfalls einen Abwurf verzeichnen und platzierten sich an achter und neunter Stelle.
Der Belgier Pieter Devos konnte das Weltcup-Springen schließlich für sich entscheiden. In 45.35 Sekunden beendete er mit seinem Pferd Apart den Stech-Parcours und blieb dabei fehlerfrei. Mit 46.05 Sekunden konnte sich der Brite Scott Brash und Hello Senator auf Platz zwei und der Schweizer Pius Schwyzer mit der Mecklenburger Stute Cortney Cox auf Platz drei platzieren.
Bester Deutscher im Weltcup-Ranking ist weiterhin Christian Kukuk, der in Oslo und Helsinki insgesamt 19 Punkte gesammelt hat.
The tournament results are presented by Pavo Pferdenahrung GmbH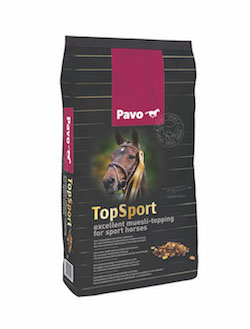 Only a healthy horse can achieve top performance. Pavo Sport offers high-quality products that have been developed for the special demands of competitive athletes. The successes of our sponsor partners prove it!

Pavo TopSport: maximum muscle support and top radiance due to a very high proportion of essential amino acids.
the winner horses of this tournament